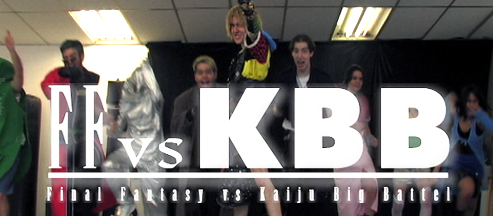 Overview
"Final Fantasy vs Kaiju Big Battel" is Digital Era Entertainment's first feature-length production…Combining characters from Japanese video games, giant monster wrestling, anime/manga, and even with some "Hollywood Celebrities" plus "political figures" in tow, this live-action comedy film is sure to entertain!
Watch it! (Desktop Playback Recommended)
(WARNING: THESE VERSIONS CONTAIN MATURE LANGUAGE THROUGHOUT. VIEWER DISCRETION ADVISED.)
Trailers+Standalone Segments
Plot Synopsis
In a tale "written" by former President Bill Clinton (Alex Stamoulis) and narrated by Sean Connery (Mario Bueno, in the first of MANY roles…), years of conflict have finally come to an end, and all seems well on the planet Spira…until the nefarious Dr. Cube (Anthony Vaccaro) rolls into town to try and take over the planet! Undaunted, the rulership of Spira contracts anti-hero Shuyin (Mario Bueno) to stop him before he causes an all-out war! But this is only the beginning of a tale filled with action, betrayal, alliance, suspense, dancing…and a whole lot of side-splitting comedy featuring an assortment of characters you would NEVER expect to find in one place!
Project Stats
Year: 2005
Length: Approx. 114 minutes (2005 original/"Complete Edition"), approx. 80 minutes (2013 re-cut/"Abridged Edition")
Rating: Unrated (contains adult language, crude humor, sexual dialogue, and stylized violence)
Genre: Fan-Produced Comedy
Color/Black and White
Production cost: Approx. $8,000-9,000
Production time (including Pre and Post): (9) Months.
Related Content: