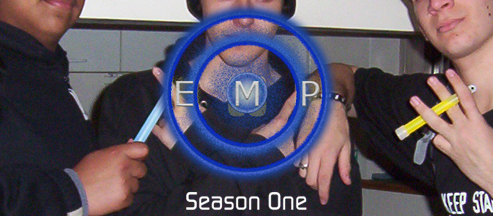 Overview
A series of glowsticking videos that spawned numerous gags and the "Resident Evil: Bunny" shorts, these videos were the first official DEE projects. Occurring as pure serendipity when Paris Hatzigiannis (DJ Greco/Sillysteps) realized a glowsticking video he was shooting for school ended up being too ridiculous to share, Mario (aka DJ Maniac of EMP) realized there was gold to be had in the days before Vine/Instagram/TikTok/Youtube.
Along with the "E" in EMP, Emmanuel Polanco (aka DJ Blacknight/Rook), they shot the series over the course of a school year (because it gave the crew something to do and it was, at the time, a purely "for fun" project). Plans for a second season were in the works, but life events distracted the entire crew and thus never came to fruition, despite shooting a "between seasons" episode to add The Bakerman (John H. Baker) as a series regular following the events of "Resident Evil Bunny."
Project Stats
Year: 2003-2004
Number of Episodes: 6 (plus numerous unreleased bonus shorts)
Rating: Unrated (contains constant adult language/offensive material)
Genre: Comedy/Music
Color
Production cost: Approx. n/a
Shot with unspecified DV camcorder
Edited on Ulead Video 8 and Acoustica MP3 Mixer
We apologize; due to insufficient permissions and releases being collected, this particular project can no longer be publicly displayed.