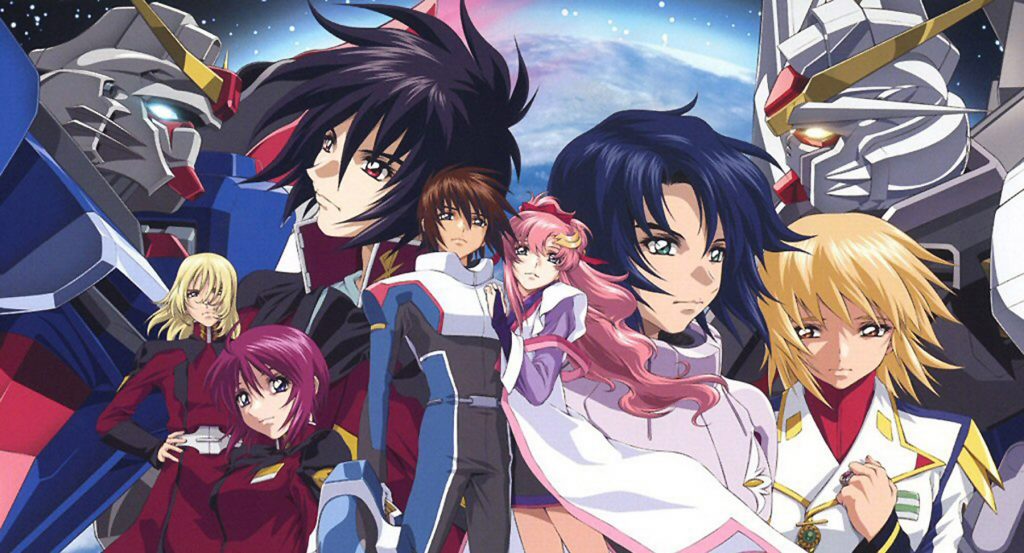 Welcome to another Gundam SEED Destiny Doubletake! Each post, I dive into an episode or two of SEED Destiny and present two "takes" from it — two commentaries on plot or character points that stood out to me. I then explore each point from two perspectives — a fan's perspective and a fiction writer's perspective.
Frongi, Gundam DEE CORe… LAUNCHING!
EPISODE 13
Take 1 — "The Chairman Is A Specialist In DNA Analysis"
After Shinn in SEED mode takes out an insane amount of enemies singlehandedly, Captain Gladys and Arthur remark on it. They assume Durandal must have assigned Shinn to pilot the Impulse because he suspected Shinn had more potential than Rey Za Burrel. "After all," Arthur drops casually, "the Chairman is a specialist in DNA analysis."
Reaction as a fan: I… what? Oh my god, Durandal is getting fishy again! WHAT AM I SUPPOSED TO BELIEVE? FOR WHAT PURPOSE ARE YOU MESSING WITH DNA AND YOUNG PILOTS THAT LOOK LIKE RAU LE CREUSET, DURANDAL?
Reaction as a writer: I am so uncomfortable. I am back to questioning whether Durandal is actually a good guy or a bad one. If this is exactly what I am supposed to be doing… then well done, Destiny. I am invested in finding the answer.
Take 2 — The Return Of The Freedom
When unknown Coordinator special forces arrive to assassinate Lacus, Kira at last decides to take action… by getting back into the ZGMF-X10A Freedom.
Reaction as a fan: I AM DROOLING. Also sobbing. I don't know if I'm crying because it was so sad watching Lacus struggle over Kira's announcement that he intended to fight again for her sake ("It's okay, Lacus. Give me the keys." MY HEART), because of the operatic music as we get our hero back, or because the Freedom is cool. The drool, at least, is because the Freedom is cool. Hello, HiMAT Mode (THOSE WINGS!), hello railguns, plasma beam cannons and beam rifle fired all at once in full burst mode; HELLO YOU GORGEOUS PIECE OF GUNDAM ASS, WITH THE PIECE OF SEED MODE COORDINATOR ASS OF A PILOT INSIDE OF YOU, TOO. I waited for this so long!
Reaction as a writer: Thirteen episodes is pretty long. I'm still not sure why they needed to wait. Maybe they were trying to take time to show how Kira has changed, that he's scarred and broken and traumatized now, and will literally only fight if he's driven into a corner like a dog and the people he loves are in danger. Maybe they were trying to focus on building Shinn's character and establishing where Athrun and Cagalli were first. Fair enough. Better late than never. I still have more questions, though. Like… after Kira takes care of this assassination plot, what's next for him? Is he going back into hibernation? YOU TOOK OUT THE TOY AGAIN, DESTINY. YOU CAN'T PUT IT BACK IN THE TOY TRUNK NOW WHERE WE CAN'T PLAY WITH IT….
We also need to talk about this assassination plot in general. It's fishy. As far as most of the Coordinators know, "Lacus" is up in the PLANTs. Anyone wanting to kill her would therefore be targeting Meer — unless, of course, they knew Meer was a fake. Who knows right now that Meer is a fake? Meer herself, Chairman Durandal, and Athrun. Did one of them send the assassins? DON'T KNOW. AM UNCOMFORTABLE. Is there a traitor within the group of people hiding out with Lacus, who gave her away? Waltfeld? DON'T KNOW. UNCOMFORTABLE. Someone else could be responsible, of course — someone we don't know yet — but, uh. I AM UNCOMFORTABLE.
And that means the writers have done a good job planting seeds of plot-points yet to come.