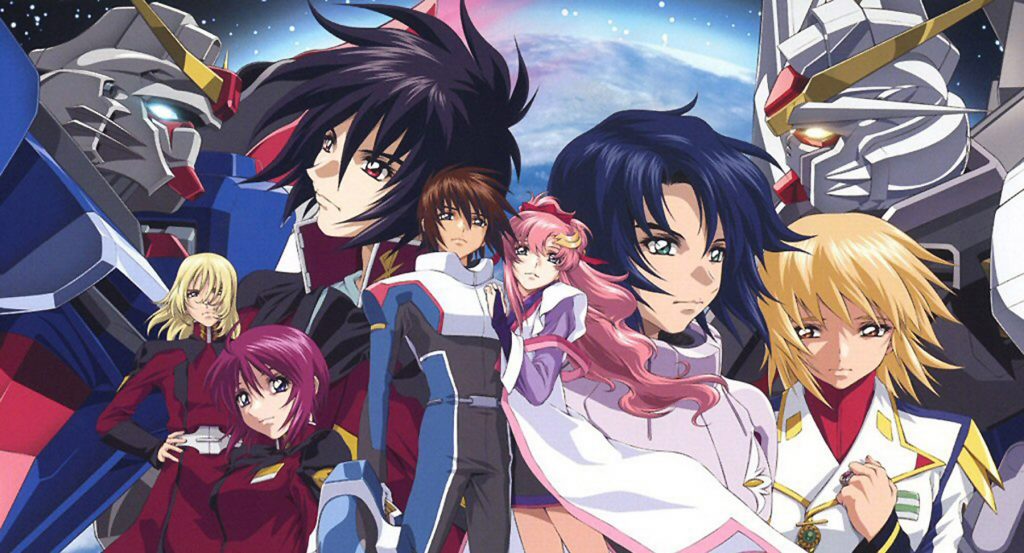 Welcome to another Gundam SEED Destiny Doubletake! Each post, I dive into an episode or two of SEED Destiny and present two "takes" from it — two commentaries on plot or character points that stood out to me. I then explore each point from two perspectives — a fan's perspective and a fiction writer's perspective.
Frongi, Gundam DEE CORe… LAUNCHING!
EPISODE 10
Take 1 — Durandal's Fake Lacus
Athrun meets the Chairman alone and proceeds to lose his cool. He angsts over the fact that the world is once again at war, holds himself responsible for the terrorists that tried to dump Junius Seven's remains on Earth, and begs Durandal not to retaliate against the Earth Alliance or otherwise escalate the fighting. Durandal responds with the most beautiful, diplomatic, reality-check speech ever — in which he proceeds to say everything so right and so well that I can't even. He convinces Athrun not to blame himself for Patrick Zala's actions, asserts that yes, he wants peace, no worries bro, but the whole situation still sucks because PLANT citizens are scared and want revenge, so….
So hey, check it out, Athrun — I've fabricated a false Lacus to fix everything! She has even more power than I do, because she's a pop idol! She can calm the people and avert war and disaster, woo!
Reaction as a fan: Even if I've been suspicious of Durandal all this time, I can do nothing but cheer deafeningly in response to everything he says to Athrun. This guy has his shit so together. He's right, he's completely right. But he faked Lacus?! Ohhh, THERE it is, the hidden agenda I've been waiting for. It's deceitful, YES IT IS, and yet… his agenda is peace. It's PEACE. And I REALLY ACTUALLY BELIEVE THAT HE BELIEVES IN AND WANTS PEACE, LIKE, FOR REAL NOW (something I wasn't convinced of until now). Peace isn't wrong, right? So can I FAULT him for being deceitful, if it seems this innocent and… and good, and sensible, and like an actually EXCELLENT USE OF HIS POWER AS CHAIRMAN? I have never had to ask these questions before. Deceit is always bad, right? At least in the end. Deceit often sounds like a good or clever plan at first, but ultimately ends up a very bad one (because usually the deceiver ends up screwing himself over, going too far past his initial ideas about justice, etc. etc., see Light from Death Note). Except, THIS SERIOUSLY LOOKS LIKE IT'S WORKING TO ME.
I'm not sure I can find much fault with Durandal's plan at present, and… and once we meet Meer, she proves herself solid, too (except for touching Athrun without his consent). She is 100% aware of the lie she's participating in, but has chosen to go along with it for the sake of peace; she's risking herself to take huge responsibility onto her shoulders. THAT IS A GUTSY, COOL MOVE. SO I DON'T—? I can't critique this plan. I shouldn't trust it (my writer side knows better) but I CAN'T NOT LIKE IT RIGHT NOW??!1!
Reaction as a writer: My guess is that somewhere, somehow, this Fake Lacus plan will go bad. But right now it seems like an excellent approach. I stand behind Durandal and Meer. What else were they supposed to do, with Lacus MIA after the last war, apparently tagging out after her Three Ship Alliance business? Lacus never took responsibility, so now Meer is stepping up to help. I am SO PUMPED about this development, because it opens a world of new moral questions of the type SEED is great at exploring.
Take 2 — The ZGMF-X23S Savior
Durandal says to Athrun after their heart-to-heart, "Let's go for a walk, shall we?"
Reaction as a fan: HE'S GOING TO GIVE YOU A MACHINE. HE'S GOING TO GIVE YOU A MACHINE. HE'S GOING TO GIVE YOU A MACHIIIIIIILKAJSFLASLJ!!!
Reaction as a writer: If I can recover from the nerdgasm (WHAT COLOR WILL ITS PHASE SHIFT ARMOR BE? RED RED RED!)… I can communicate that this is great. But also kind of foreboding. If Durandal's master plans do go wrong, which Durandal seems to realize they might (which makes him an even more mature and even potentially tragic character)… then if Athrun agrees to pilot this mobile suit at his behest, Athrun might go down with him. Yes, Durandal said Athrun should take the Savior specifically to help steer the PLANTs back onto the correct path if they should start to go wrong, but will that be possible? Can Athrun handle this level of agency? STAKES, SO MANY HIGH STAKES COME WITH THIS GUNDAM. Stakes drive a story forward. And that name, "Savior?" DON'T PUT ANY PRESSURE ON ATHRUN OR ANYTHING.
Bonus take — Orange Mystery Machine
During Durandal's speech, the news is playing on a screen in the background — and we catch our second glimpse of a mysterious orange mobile suit. This suit has not yet been addressed or identified, but it's been flitting around in the background of the show, almost in an "if you blink, you miss it" fashion.
Reaction as a fan: I AM NOT MISSING ANYTHING — THAT IS AN ORANGE BLAZE ZAKU PHANTOM. TELL ME WHO IS PILOTING IT! I KNOW GUNDAM DOESN'T MAKE SUITS COOL COLORS UNLESS THEIR PILOTS ARE COOL, TOO; TELL ME TELL ME TELL ME TELL ME!
Reaction as a writer: This is a fun nod to the viewers who are paying attention to the mobile suits. It's a promise that a new character is going to show up, probably with some level of lore or infamy already behind them. I'm curious about what purpose another new character will serve at this point, but I can't lie — I almost don't care, because I'm lost to the fan side of things. (The pilot has an orange Blaze ZAKU Phantom, for Chrissake. The person has GOT to be cool.)

That's it for this week. Until next, everyone!