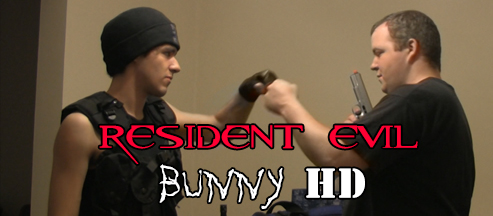 Overview
The gritty re-imagining of the original short, and the first DEE project shot in HD! Finally compiled and edited in 2015 as a celebration of the nearly ten years since "Final Fantasy vs Kaiju Big Battel's" release, this short film was originally intended to be a warmup before projects like the later work "Doujinopolis." The project was left to the wayside after being shot in the Summer of 2007 because of a lack of HD-compatible equipment to edit on, and both a busy production schedule/massive life changes for the team at the time said equipment was acquired.
It's worth noting that this edition also features hints at the VERY different direction the story would take in any a re-imagining, such as character names being shifted to reflect a more "action movie" type of feel, which is also indicative of the change in tone the actual "Resident Evil" franchise (both games AND movies) took in the years preceding the release of this short. Even the tone of this version, which is intended to be FAR less campy and legitimately "gritty" (minus the obviously tongue-in-cheek moments as even the custom preview graphic indicates), gives off a different feel from the original.
(It even goes so far as to integrate the lore from the original 2004 sequels to further hammer home that a full-blown remake would, in fact, bring together the story that was partially told in the unfinished sequels while revamping the entire storyline.)
In all, it's a comprehensive project that represents the early days of DEE (use of this story/use of classic footage for comparison), the transition in quality between "FFvsKBB" and "Doujinopolis" (the jump from SD to HD+the editing techniques refined in between), and the experiences of the years of projects that have come thereafter.
Not a bad note to end a particular cycle of DEE's history on.
Watch it!
Plot Synopsis
In 2007, Maniac (Mario Bueno) is called back into action by Director Thompson (voiced by Lucas Schuneman) three years after his last mission. With the mass slaughter of the rest of the unit by a new bioweapon, only he and Ironstriker (John H. Baker) are the only ones who can contain both the weapon and Subject Zero, the carrier of a new strain of retrovirus…both of which have now been turned loose upon the world, threatening Maniac's chance to enjoy his happiness with girlfriend Linda Brighton (originally portrayed by Laura Ortiz)…
Project Stats
Year: 2007, 2015
Length: Approx. 03'34"
Rating: Unrated (contains some adult language)
Genre: Action/Thriller/Parody
Color/Black and White
Production cost: n/a
Shot with Canon HV20; utilizes SD footage from Resident Evil Bunny (2004)
Edited on Adobe Premiere CC and Adobe Audition CC (additional processing in Adobe After Effects CC)
Trivia/Notes:
00:08-00:17 – Original monologue from the intros to REBunny 2&3; 2004 file was used since it was hi-res enough.
00:52-00:59 – Exact lines from the original REBunny short, albeit delivered with RADICALLY less melodrama.
01:10-01:16 – Original footage from "data files" used in REBunny 2 as the SD/graininess gave a particular look for the shot.
01:27-01:35 – Shots of the actual hotel where Animazement 2004 and 2007 took place; audio lifted from Subject Zero's original 2004 dialogue, albeit with heavy processing.
01:39-01:43 – This shot mimics the start of a flashback sequence in REBunny 2.
01:49-01:53 – A nod to two key shots in the 2004 version of the short which were reused in REBunny 2's opening scene.
02:26-02:26 – Actual photo taken during production of (and used in) REBunny 2
02:29-02:39 – A nod to Maniac's "preparation" sequence in REBunny 3.
02:43-02:46 – A nod to a key shot in REBunny 3 when Maniac and Bakerman split up to accomplish two different tasks.
02:50-02:57 – Actual flashback footage from REBunny 2 that transitions into recreations of a key shot from the original short.
03:04-03:13 – Credits are laid out in the same order as the original short.
03:19-03:28 – As in the original short, the credits go to static and abruptly cut out.