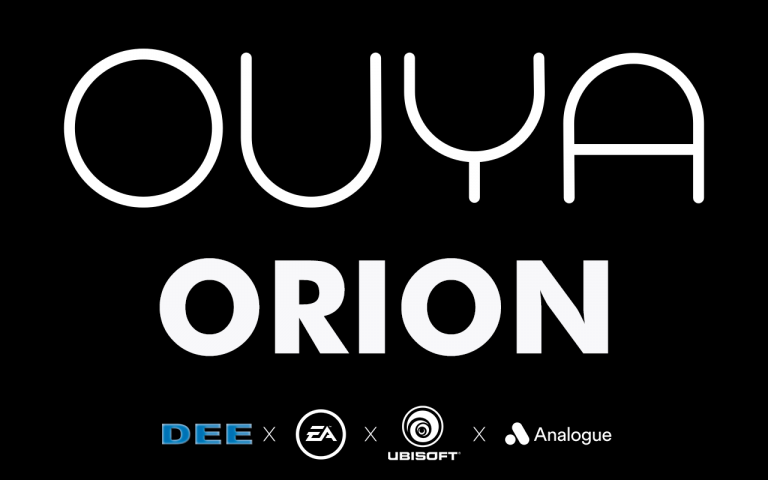 FOR IMMEDIATE RELEASE
NEW YORK, NY April 1, 2019- Digital Era Entertainment officially announces its first foray into console hardware: OUYA ORION. Quietly acquiring the rights from current brand owners Razer over Winter 2018, Digital Era Entertainment has reached out through its staff's vast industry network to prepare a brand new entry in the hardware market to counteract the movement towards streaming.
"We saw the opportunity to juke left when the industry was juking right towards a purely streaming experience," said Digital Era Entertainment Founder Mario Bueno in a private investor call over the weekend. "While streaming has been very much our brand, there will always be an analog component to gaming and gaming culture, and that's why we're glad that Razer was kind enough to grant us this opportunity after a chance encounter with Razer CEO Min-Liang Tan at the 2019 Google Hardware Store Pop-Up and the subsequent conversation about our Gaming ambitions led him to literally hand over hardware schematics and the rights since he told me that s— was useless to them now anyway."
Spearheading industry relations and internal development is DEE CODE on-site producer and weekly co-host Luigino Gigante, who also owns and operates the successful Waypoint Cafe at 65 Ludlow Street in the Lower East Side of Manhattan. "After talking with customers often and being incredibly nonplussed with Google's original streaming offering, I said 'f— it, if you can't beat 'em, take their old trash and turn it into treasure. Luckily, Mario bumbled into all this stuff and saved me the trouble of having to nag Sega for the old Saturn rights.' " Gigante has also revealed that the name is to pay homage to the celestial heritage of that particular console because "it sounded like a f—ing winner."
DEE CORe Editor-in-Chief and DEE CODE Podcast host Kenneth Cardez, who will be serving as the ORION's product manager for content, stated that "all [their] s—talk about EA was actually a smokescreen and simply an incredibly nuanced method of paving the way for this exciting announcement" as EA was named the first partner in the venture. EA will be adapting the recent release "Anthem" for use on the new system to be a purely offline game to avoid hardware issues like those seen even on DEE Twitch broadcasts, " and even brokered a deal with Fox prior to the conclusion of the Disney acquisition to officially allow the use of "The Simpsons" character "Gil Gunderson" as a new NPC for the game in a nod to DEE CODE's ongoing references. Ubisoft will also provide a new platforming game by "Rayman" creator Michel Ancel based around DEE CODE co-host Wally Oruam to be titled "Dapperman: The Rising."
The console will use a combination of proprietary disc-based reading technology to access ANY physical hardware disc, modern or legacy, and work is being done in tandem with retro game console maker Analogue to develop proprietary PCB-focused attachments to allow use of ANY classic cartridge for the ultimate offline experience!
"I have literally nothing to say," said DEE Chief Financial Officer and regular contributor John H. Baker (also known as Twitch streamer "NeoIvan" of "NeoIvan Gaming"). "The work will speak for itself."
No further details have been announced, such as pricing, bandwidth requirements or additional hardware compatibility, but Mr. Bueno noted that "it will definitely probably run VR" and that "people will drop serious coin on a serious console business. And we're serious about consoles because consoles are serious business."
OUYA ORION is expected to release at the tail end of Q4 2019 to avoid the post-Christmas rush and beat the glut of anticipated next-gen releases from Sony and Microsoft.
ABOUT DIGITAL ERA ENTERTAINMENT:
Formed in 2003, Digital Era Entertainment is the brainchild of Mario Bueno, and to date has specialized specifically in fan-made video projects pertaining to Otaku culture with earlier projects pertaining to electronic music culture. With projects ranging from trailers/partially completed film series "Resident Evil: Bunny" (2004; HD Remake 2007), to feature length fan film "Final Fantasy vs Kaiju Big Battel" (2005), and the webseries "Doujinopolis" (2009-2010), DEE has also produced advertisements and promo videos for others such as American Cosplay Paradise+Aniplex of America (2010-2011), and co-productions for some of our partners like Uncle Yo (2010 DVD Feature, 2013 web promos for "EctoKittLorean").
In 2017, DEE CORe, an informative-minded venture originally slated for release back in 2007, was (re)debuted. A livestreamed program for this subsidiary ("DEE CODE") helmed by DEE CORe Editor-in-Chief Kenneth Cardez launched on January 1, 2018 and anchors nightly live broadcast content on Twitch.
As it moves forward, Digital Era Entertainment hopes to expand beyond its internet roots, but until then, it will proudly be a creator of easily consumed entertainment media!