A collection of Digital Era Entertainment projects from 2010-2013 that were one-offs for partners and clients! Details (and video playlist) below!
Commercials
6/4/2010: Gurren Lagann Costume Contest
Client(s): American Cosplay Paradise, Aniplex of America
Goal: To humorously raise more awareness of the contest, which in turn was promoting Aniplex's US release of the two Gurren Lagann movie adaptations. Utilized cast members from "FFvsKBB" and "Doujinopolis" to this end.
1/2013: The Road to EctoKittLorean
Client: Uncle Yo
Goal: A co-production with TriFocal Productions (who assisted with "Doujinopolis") to promote Uncle Yo's first all digital outing "EctoKittLorean."
Limited Run/Experimental Videos
10/12/2010: Durarara!! Day 2 Remember
Client(s): American Cosplay Paradise, Aniplex of America
Goal: The pilot for an initially planned 12 episode original side-story featuring the characters from the anime "Durarara!!". The project was initially intended to air as a bonus to weekly Voice Actor interviews with the US cast of the program, but instead was trimmed down simple introductions as featured in the final product released by Aniplex of America.
Home Video Releases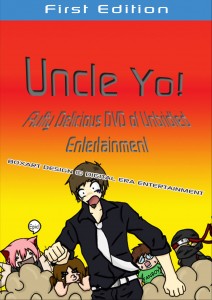 Uncle Yo DVD 1: Fluffy Delicious DVD of Unbridled Entertainment
Synopsis: The first DVD from geek-centric stand up comedian Karl "Uncle Yo" Custer! Featuring his live show from Tekkoshocon 2010, and bonus materials including Yo Unscripted at Anime Boston 2010, and his interview from Coswatch.com, this DVD will provide over an hour of laughs…and extra laughs for however many more hours of time you spend rewatching it!
Year: 2010
Length: Approx. 40 minutes (main feature); 39 minutes (bonus features)
Rating: Unrated (contains adult language and subject matter)
Genre: Stand-Up Comedy
Mastered in Standard Definition (main feature) and High Definition (Yo Unscripted bonus featurette)
Format: Originally available on DVD starting at Connecticon 2010 with on-site sales at subsequent events thereafter; online orders exclusively thru UncleYo.com starting 7/12/2010.
Limited Run; MSRP – $15.00. (discontinued)