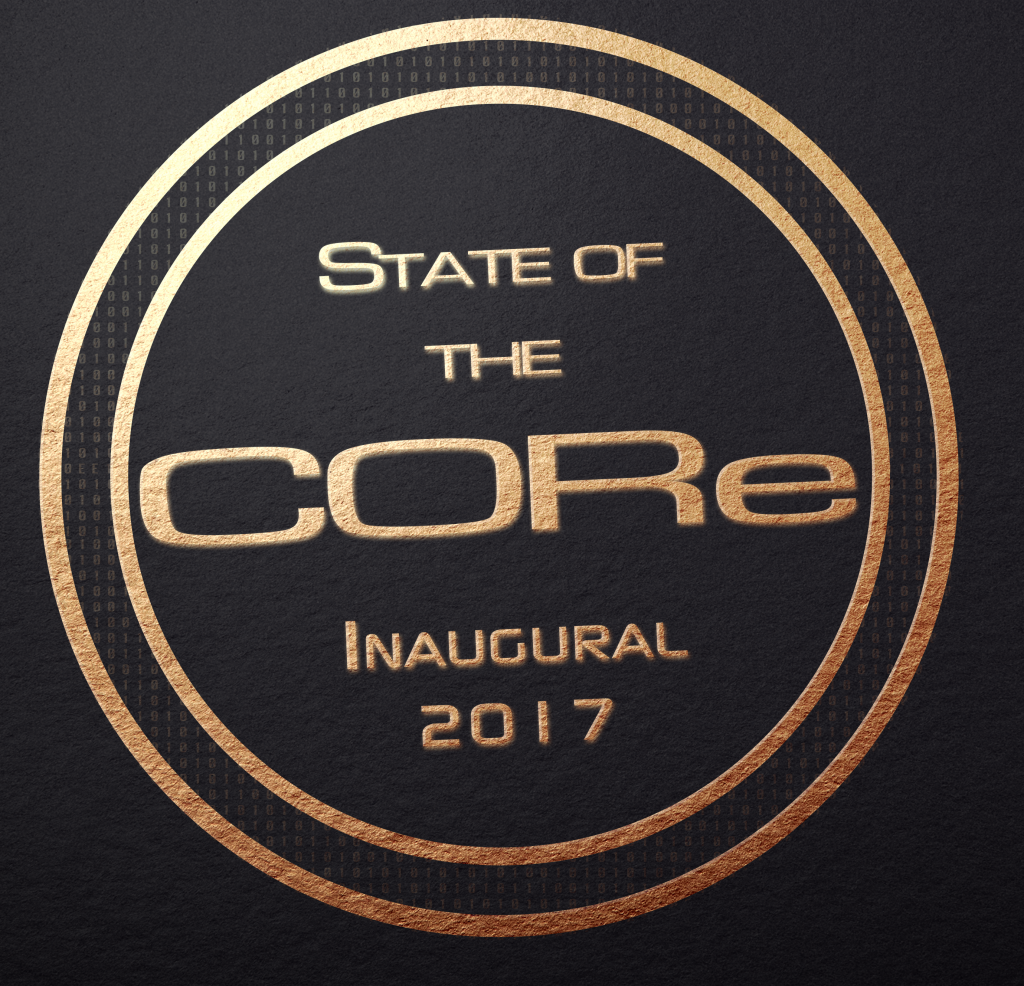 Hello CORe readers.
We're now almost a tiny bit into this new venture heading into month 3 and it's been one heck of a ride into the world of video game culture. As your Editor-In-Chief I wanted to take a small moment and reach out to you all a bit more personally. Before that, however, you may have noticed we have been really quiet throughout all of February. On top of real life things taking precedence, we've also been discussing what to add to this site for your enjoyment. Firstly, I'd like to talk about how this journey began in a way.
I've been writing for various other outlets for nearly ten-plus years before embarking on this quest with DEE Founder Mario Bueno, a partnership we discussed almost as long ago and never put it to light until now. That's life though. Sometimes you plant a seed and it takes an extremely long time to grow. So here we are, along with all of you sitting on the tree of that seed planted back in the day. It's appreciated a thousand fold to see the Facebook shares, the comments that pop up here and there and know that this is reaching you. We here at DEECORe want to do more to embrace that interactive reach so we're putting together a few things for you.
Twitch streaming is a thing we've decided to bring you, and I personally have a Twitch page set up for personal use that I will begin to use as a mainstay for CORe. You are all more than welcome to subscribe to twitch.tv/GrandiloquentZed and check out whatever games I decide to throw up there for your viewing pleasure. It will be an opportunity to talk to me live while we game, share your thoughts on what you'd like to see on the site and even the channel. We're here for you, and we want to interact with you. My twitter will be posted at the end of the article so that you all can stay up to date on when I will stream.
We're still working out a streaming calendar of sorts and it is still currently being ironed out. Being on the East Coast makes timing pretty crucial as we want to reach most of you at a desired time. Couple that with the Nintendo Switch nearly upon us and we're adamantly trying to figure out avenues to provide multiple sources for your viewing pleasure. Regardless, if you should choose to subscribe, all are welcome to join in and chat it up with me and we can learn about one another. We want to do more of this type of interactivity for you and this is just the start. Overwatch and Destiny are two of the games I play the most and as such will probably take up most of the content but I will always try to put up live gameplay of whatever is the newest title I have procured at the moment. Games aren't just handed to us so expect some replays of older titles as well.
That being said, and as an avid player of Destiny and the monthly Iron Banner tournament coming up on February 29th, that particular day seems like a solid day to stream. I aim to go live around 7:30pm Eastern and go until about 10:30/11:30pm Eastern. Not just on that day but I intend to stream each day Iron Banner is live with the only exceptions being this Friday and Saturday. I hope to see many of you check in and able to ask questions or just discuss stuff in general. Think of it as a Reddit AMA of sorts, with gameplay and me getting mad at teammates and stuff. Some adult language may be heard so viewer discretion is advised.
As for written content, while video games are our strong suit, we've decided that we want to begin branching out to other aspects of popular culture and offer think pieces on those as well. We're currently looking into bringing you content on a few subjects of importance to use here at CORe and those include wrestling, comic book properties both print and film and even anime. We haven't set a course for action on when those things will be delivered, but rest assured that one of the mentionable items will be coming forth sooner than you think.
We want to provide a place for discussion through interactivity and as such we are not simply content to just throw it up on a forum and call it a day. We want it to be in the visual sense and emphasize a face to the words that get typed up or spoken. It fits in our mind especially as the mediums we want to deliver to you bring some sort of visual flair in unique methods. We have our Twitch start, and we'll be looking into YouTube as well for that visual interactivity later on as the year goes on. We've discussed at length on things like a Podcast or Vlogcast and those have begun their turns in the cogs of the mind of us here at CORe. Once we settle on what to do with those things, we'll let you know.
For now, please do enjoy our written content to tide you over until our first stream of 2017 on February 29th. We look forward to interacting with you whether on Facebook, Twitter or the various media services we plan on diving into. Feel free to add myself on over at twitch.tv/GrandiloquentZed or on Twitter www.twitter.com/OmegaZed.  Do also comment on our Facebook posts as well. I want to reach out to you all as much as possible and I look forward to hearing from you soon.